Share Your Experience!
Meet with your Education Abroad advisor after you return to see how you might be able to share your study abroad experience.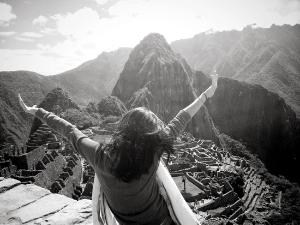 Some ideas:
Join one of UTSA's many international student organizations.
Help plan International Education Week.

Create a presentation about your experience for one of your classes.

Offer to volunteer for UTSA Education Abroad at our study abroad events.

Offer to be a speaker for community groups such as the Boy Scouts, Girl Scouts, or Chamber of Commerce.





For IEF recipients

Your study abroad experience is now a part of who you are. We want to hear more! As part of the IEF requirements, you've agreed to write a short essay and submit photos detailing your experiences.

What we're looking for: how study abroad has influenced your education, what you learned while abroad and how you think this experience will help you with future plans. You can also tell us about all the skills you acquired while studying abroad. It's important to us that we see how this trip affected you and for us to get a glimpse of this through your perspective!

This paper may also be substituted for any other creative pursuit such as a collage of pictures (at least 15), a blog post, vlog, or any other creative endeavor you pursued relating to this trip.

Some guidelines to meet this requirement:
Send the essay and photos to studyabroad@utsa.edu
Save your essay as [Last name + country of study abroad + term + year] For example: Garcia.Vietnam.Fall18
The essay should be 500 words (unless submitting alternate project)
Photos must be original work, have been taken abroad and have been taken during an experience related to UTSA, such as study abroad, research abroad, or conference attendance abroad.
Submitted photos must be of high quality (1MB+).
The pictures should reflect your experience abroad – we want to see what it's like for you to explore a different culture.

Deadline to submit this requirement will be August 30, 2019 at noon.

Here at Education Abroad we understand that 500 words are not enough to express a study abroad experience, this is why we want to invite you to come and join us for the Study Abroad Fair where you will be able to bring the world to UTSA and talk with students about your experience. The fair will take place at the Sombrilla on September 17, 2019 from 11:00 am to 2:00 pm. Please let me know if you would like to volunteer.